As a kid (ok, well even now!) I always spent my pocket money on pens, pads & stickers, so it's probably right I'm in this job!  Each morning faced with a mug stuffed full of pens (that are mostly pink!) I pause to choose my pen for the day! (It's usually a pink Metallic Krypton although I've currently got a soft spot for a purple Bic Style Clear).
Anyway (!) – we're always being asked for pens that  'are different' – so I wanted to tell you about a pen that is not only different – but a pen that is truly amazing, in fact it is LIVING!!
It's the Antibac pen from Senator which destroys bacteria such as MRSA when it comes into contact with it, honestly!
Launched after a whoppin' 2 years of R&D, this unique pen contains a fully integrated active ingredient which means when the pen comes into contact with bacteria it begins destroying them!
Complete with British Standard BS EN 20645, this pen fights and kills 99.9% of all superbugs in a 24 hour period, hence the name 'Living Pen.' It's been tested and proven effective against MRSA and C.Difficile. Listeria and Salmonella is part of the C.Difficile spore which are the UK's most dangerous killer bacteria
And what's more, a special antibacterial compound is also mixed into the printing inks to ensure that the product remains uncompromised, thus making this pen perfect for any environment; such as offices, hospitals, schools and even my pen pot!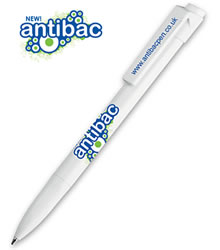 Drop me an email if you'd like a sample – blog@4imprint.com