Many of our customers order sweets, mints and chocolate treats to display on their stands at trade shows; in fact when 4imprint have had a stand in the past, I found there's no better way to entice people over than to jiggle sweets under their noses!
Our range of tasty treats that come in a variety of pots and pouches that can be personalised with your message and logo just keeps growing; and now we've added Smarties to the range!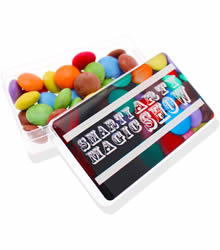 PS – I hope I'm not showing my age with the title of the post; I've just looked on the Smarties website and there is no mention of that old advertising slogan!